CATEGORIZATION
What is Categorization within RavenCSI?
Our Categorization feature was designed to ease the process of managing complex org charts, the ability to group parent child relationships, and build real-time reports with advanced filtering by category or org hierarchy. We used Lean techniques to reduce motion & click waste while designing a survey, to enhance the user experience, and deliver Customer/Employee Experience data and analysis to the right people in real-time.
Key Features:
Upload organization hierarchies or any parent/child relationship structure with just a few clicks.
Admin feature to hide sensitive data, anonymous feature capability to protect employee/customer confidentiality.
Minimize respondent need to respond to hierarchy or parent/child relationships. Reduces number of questions asked of respondents, while maintaining relationship data for analysis.
Ability to apply to any survey independently and reuse, when needed.
Real-time alert feature, if Admin or assignee desires immediate knowledge of a particular response, to mitigate risk or provide real-time service recovery methods.
Custom reports (viewable on any internet connected device) leveraging the relationship data for filtering by hierarchy or category.
Mobile optimized for use on smaller, hand-held devices.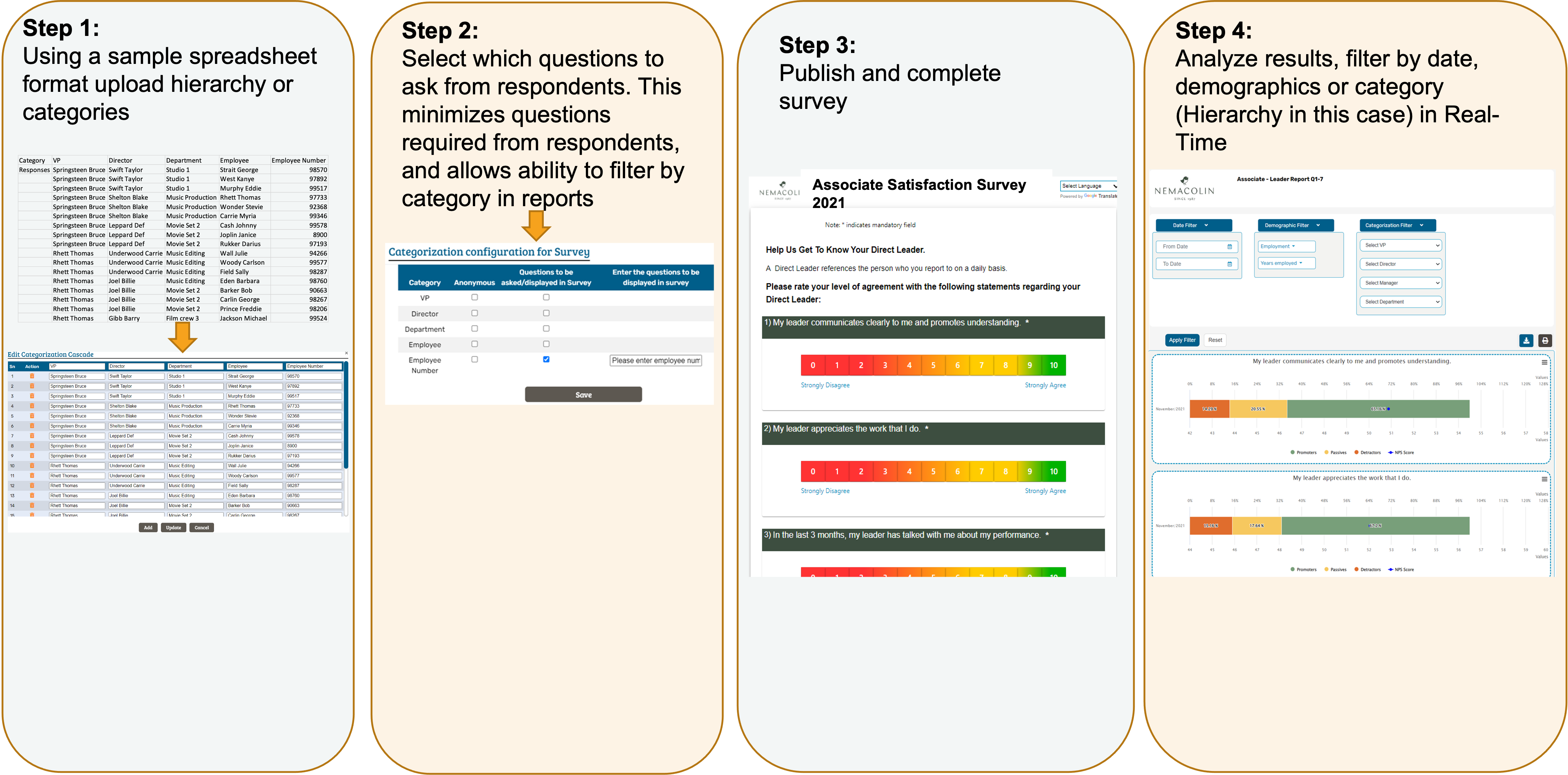 Benefits and Impact of using Categorization within RavenCSI:
Results in minutes not months.
Now every manager or HR leader can get real-time and relevant engagement and experience results for their teams.
Identify at-risk employee populations with low engagement and attrition issues in a single glance.
Survey admin can tag any response within the survey to trigger an actionable alert for a specific team member to review and take immediate action, if desired.
Analytics, custom reports, and the ability to filter results presented in real-time, so managers can take action from within the custom reports.
Can create and share as many custom reports and manage access accordingly.
Admin can allow managers easy access to reports using URL link or QR code.